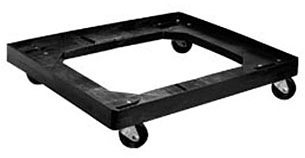 Your Price:
$

55.36

*

USD

Item Number:

20627

Manufacturer:
BEcom Mfg
*Price Does NOT include cost of crating, shipping, delivery or installation.
BEcom Bakery Tray Dolly
light weight dollies help bakeries transport their baked goods. Available in single and double styles, the bakery dolly can actually be used for multiple purposes. We offer custom sizing. If your bakery baskets are a unique size, we will develop the proper size dolly to match it. Our expert welders provide a quality product every time. Each dolly is fitted with four casters.
*** Look of dolly may vary from product picture