VMI Continuous Mixer System
Previously Owned Equipment
VMI Continuous Mixer System
Your Price:
$

195,000.00

*

USD

Item Number:

16758

Manufacturer:
VMI
*Price Does NOT include cost of crating, shipping, delivery or installation.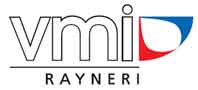 Continuous Mixing Systems
VMI has succeeded, year after year, to transfer all its know-how of traditional dough mixing, acquired through its success with craftsmen bakers, to the industrial field. The mastery of the various parameters and phenomena involved during dough mixing, has enabled us to adapt this know-how to mixers which are much better suited to the production of several tons of dough per hour; continuous mixers. Combined to the implementation of one of the most reliable technologies and a very good knowledge of all stages of bread-making, this mixing expertise made of VMI continuous mixers among the best performing mixers in the world.
Pre Owned VMI Continues Mixers Available From Bakery Equipment.com
Largest model they make.. 7500lb per hour for each machine
These two machines were lined up to make 15,000lb per hour at a Swans plant in Florence, KY
Each of the units come with their own Control Panel
Units come with the S.S. Mixer platform shown in the photos
Units come with the oscillating dough delivery conveyors with Control Panel  
** The units do not come with any dozing system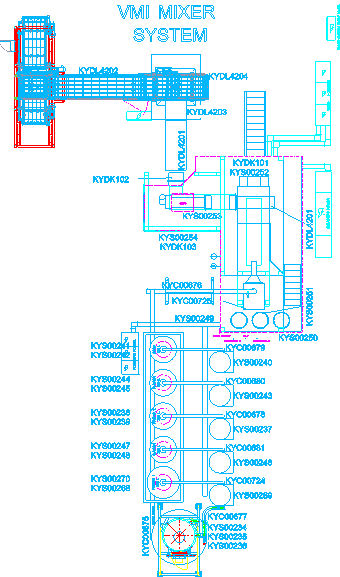 VMI Web Site Photos to Show Detail
Visit the VMI Web Site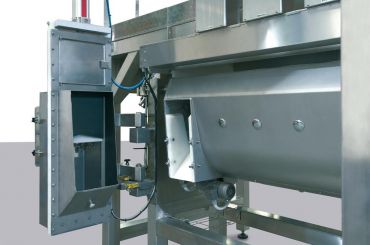 LIMITED WARRANTY
Bakery Equipment.com only warrants equipment shipped within the United States of America. Bakery Equipment.com guarantees that the equipment will be in working order upon installation. Installation must be performed by an authorized Bakery Equipment.com service agency.
If an item sold by BakeryEquipment.com, Inc. does not work upon delivery and cannot be fixed, BakeryEquipment.com may in this case offer an in-store credit for another piece of equipment equal to the value of the item in question.
Equipment is sold with a 30 day parts warranty. Bakery Equipment.com will only pay for parts that are deemed necessary for the proper operation of the unit. Only parts purchased from a Bakery Equipment.com authorized service agency will be honored.
All used equipment sales are final. No returns, no refunds.
Used Items may not be returned because they do not meet the buyers needs. This means that if you buy a piece of equipment to perform a task that may not be it's original purpose, we would be unable to exchange the item. We urge you to ask as many questions as you feel needed before making your purchase.
Extended 6 month warranties are available for an additional charge.
For additional information on Warranties and Returns, See Warranty/Return Policies