Chicago Metallic Plain or Glazed Single Loaf Pans 9 X 4-1/2 Aluminized Steel 40561 & 40565
Chicago Metallic Plain or Glazed Single Loaf Pans 9 X 4-1/2 Aluminized Steel 40561 & 40565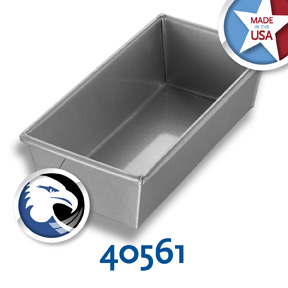 List Price:
$186.00
Your Price:
$

104.00

*

USD

You Save:
$82.00
Item Number:

15945

Manufacturer:
Chicago Metallic
Model No.:

40561/40565

Availability:
-Ships Within 3 Days
Package Of:
12 Pack
*Price Does NOT include cost of crating, shipping, delivery or installation.
Scroll Down For Pan Sizes and Product Information

Chicago Metallic is a manufacturer of high quality commercial  metal bakeware serving the foodservice, supermarket and retail baking markets. Founded in 1898 by the Debs family, the firm has established itself as an expert in metal bakeware.

          

   

Sold by the Case (12 Per Case)

Single Open Top Bread Pans  


26 gauge, Aluminized steel, seamless construction, curled rim, no wire in rim
Plain

Glazed

Top Inside

Bottom Outside

Depth

Weight
Each, Lb
Loaf Weight
Each, lb
40401*
40405
5

5/8

X 3

1/8

5 X 2

1/2

2

3/16

0.3

3/8

----

45031**
7

1/4

X 3

5/8

6

3/4

X 3
2

1/4

0.8

1/2

----

41065

8 X 4

7

1/4

X 3

1/4

2

1/2

0.9

3/4

40421
40425
8

1/2

X 4

1/2

7

5/8

X 3

5/8

2

3/4

1.0

1

40561
40565
9 X 4

1/2

8

1/4

X 3

3/4

2

3/4

1.1

1

49110
49115

10 X 5

9

3/8

X 4

3/8

3

1.3

1

1/2

40491
40495
12

1/4

X 4

1/2

11

1/2

X 3

3/4

2

3/4

1.3

1

1/2
*Seamless construction, curled rim, no wire in rim, 40411 replaces 40401 and 40415 replaces 40405
Residential Delivery Available at Additional Cost.
No International  Delivery Available
Pan Use & Care Guidelines
Daily Use
LUBRICATE PANS - Apply a baking pan lubricant to the baking areas of the pan prior to each use. Brand new pans, once seasoned, do not require as much lubrication as older pans.
DE-PAN PRODUCTS QUICKLY - Baked products should be de-panned while the pan is still hot or warm. If baked products are allowed to cool in the pan, steam from the product will penetrate the glaze and may cause glaze lifting, premature glaze failure and damage to the Pan's surface.
DO NOT SCRATCH OR SCRAPE PANS - Do not sue metal utensils or other objects that could scratch the glaze. Deep scratches may cause surface corrosion on the pan.
Daily Cleaning
CLEAN AS YOU GO - Wiping still-warm pans with a clean towel, or a towel that has pan lubricant on it, usually provides adequate cleaning. Avoid pan washing whenever possible.
WASH WITH MILD SOAP AND WATER - Commercial baking pans can be washed with pH-neutral products, but only when absolutely necessary. Do not use acidic cleansers, alkaline detergents or abrasive scrubbing pads. Use of these materials will cause the glaze to fail prematurely and may  cause corrosion. Do not soak pans in water. Do not wash in automatic dishwashers.
THOROUGHLY DRY PANS IMMEDIATELY AFTER WASHING - Warm ovens work best.
SEASONING PROCESS - Apply a baking pan lubricant to both sides of the pan and place in an oven until the pan is hot to the touch.
New pans must be seasoned before first use.
ONCE DRY, STORE PANS UPSIDE DOWN -Do not nest pans immediately after towel drying. Keep pans away from moist and humid storage environments. The best storage areas are dry, warm storage areas or still-warm ovens.
Sure Bake and Glaze
Most Chicago Metallic baking pans are available plain or with Sure Bake and Glaze. Sure Bake and Glaze (SB&G) is a two part process developed to provide the best possible surface for baking. The first part, called Sure Bake, is an electrolytic bath process that prepares the pan's surfaces for the application of glaze by providing a little "tooth" to the surface of the pan. This preparation allows the glaze to adhere tightly to the pan's surface providing a longer glaze life.

The second part of the Sure Bake and Glaze process is the application of the silicone coating itself (Glaze) to the prepared surface. The purpose of the glaze is to promote the easy release of baked products from the pan. Although glazing is not a permanent coating, commercial reglazing facilities are available.
Pan glaze and pan life can be prolonged with a preventative maintenance program designed for each particular pan. The key to success of any baking pan maintenance program is that management must first develop a philosophy about the care of pans, establish a definitive pan-care training program, and insist that all associated with the use of the pans follow the designed program, including periodic pan reglazing cycles.
Fore more information on Bakeware Handling and Cleaning Guidelines, please see the Specification Sheet PDF File.